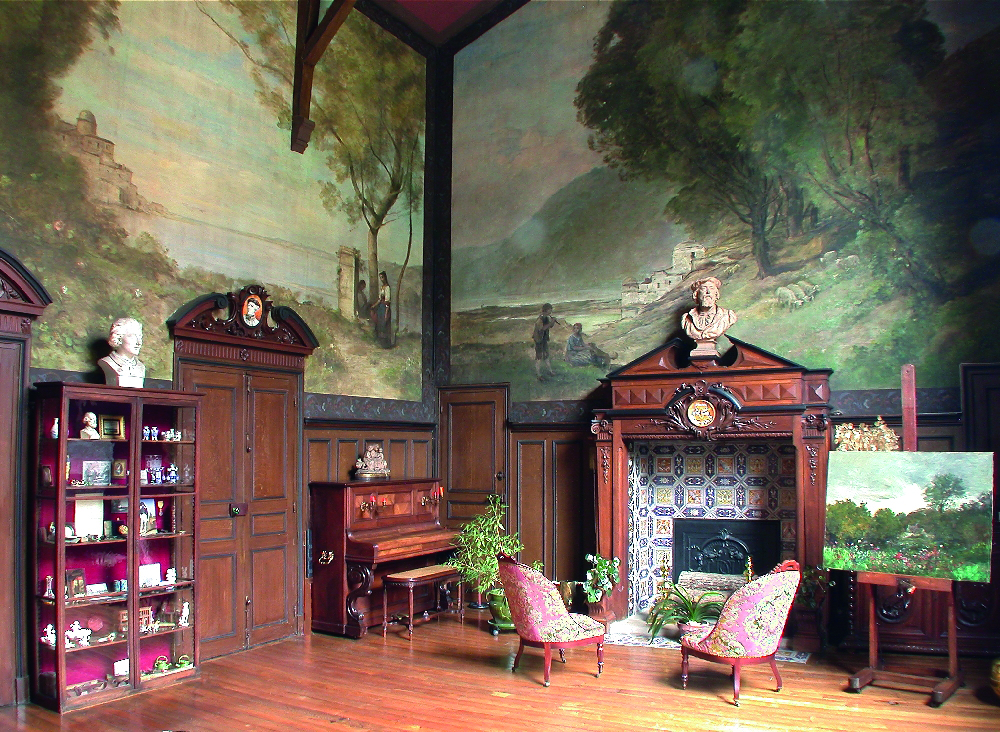 A listed French historic monument more recently also designated a "Maison des Illustres", the Maison-atelier Daubigny retains the memory of a precursor of Impressionism as well as an authentic, unspoilt 19th-century atmosphere that visitors can enjoy to the full.
Charles-François Daubigny was a landscape painter of the Barbizon School, a forerunner of Impressionism. Around 1860, he bought a piece of land at the place known as "Les Vallées", in an area he'd known since childhood. His friend, the architect Eugène-Stanislas Oudinot, designed a studio for him, surrounded by further rooms, built here in 1861. The studio dominates the whole building, measuring some 7.5m to the ridge of its roof. The entrance hall, kitchen and dining room look down on a pretty, flower-filled garden, offering views, through greenery, to the Château d'Auvers. This green haven was even represented on canvas by one of the artist's most famous admirers, Vincent van Gogh, who chose it as the subject for one of his final works, Le Jardin de Daubigny.
From 1864 on, Daubigny, his son Karl and daughter Cécile, assisted by Camille Corot and Honoré Daumier, among others, produced the exceptional decorative schemes that still embellish the walls of this house-cum-studio covering 200m2 in total. The wall paintings provide fine evidence of the artistic outpouring that Auvers-sur-Oise witnessed in the second half of the 19th century.
Daubigny, for his daughter's 20th birthday, began painting her room based around floral and childhood themes, such as fairy tales, fables and children's games. As to the dining room, it was decorated with murals focusing on the animal kingdom. The main painting dominating the entrance hall was done by Daumier, Don Quichotte, Sancho Pansa et la mule morte, a work now kept at the Musée d'Orsay.
As regards Corot, he drew out on paper the decorative scheme for the studio, these studies, or cartoons, now kept at the Baltimore Museum of Art. The artist, the Daubigny family and their friends then transposed these designs onto the walls when the weather wasn't suitable for painting out of doors. In total, the murals represent no less than 100m² of works applied to the walls. They would take 10 years to complete.
The whole decorative ensemble has undergone restoration, in large part thanks to Daniel Raskin, a great-grandson of Charles-François Daubigny, supported by the American association, Friends of French Art. As a result, the Maison-atelier Daubigny enables visitors to immerse themselves fully in the period atmosphere of when this house-cum-studio was created.
Practical informations
Maison-atelier Daubigny
61 rue Daubigny95430 Auvers-sur-Oise
Tel. :+33 (0)1 30 36 71 81
atelier-daubigny.com
Practical informations
Maison-atelier Daubigny
61 rue Daubigny95430 Auvers-sur-Oise
Tel. :+33 (0)1 30 36 71 81
atelier-daubigny.com