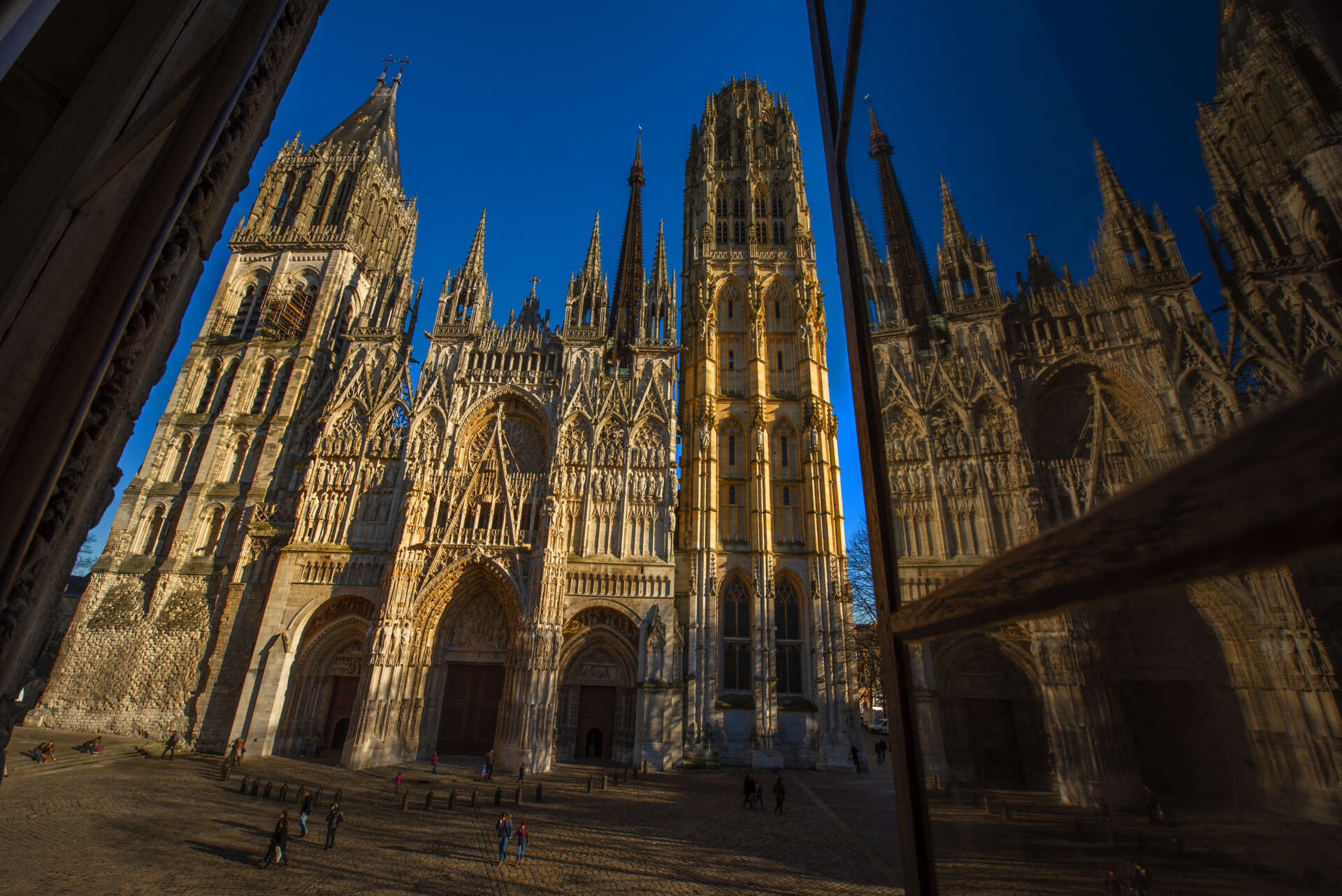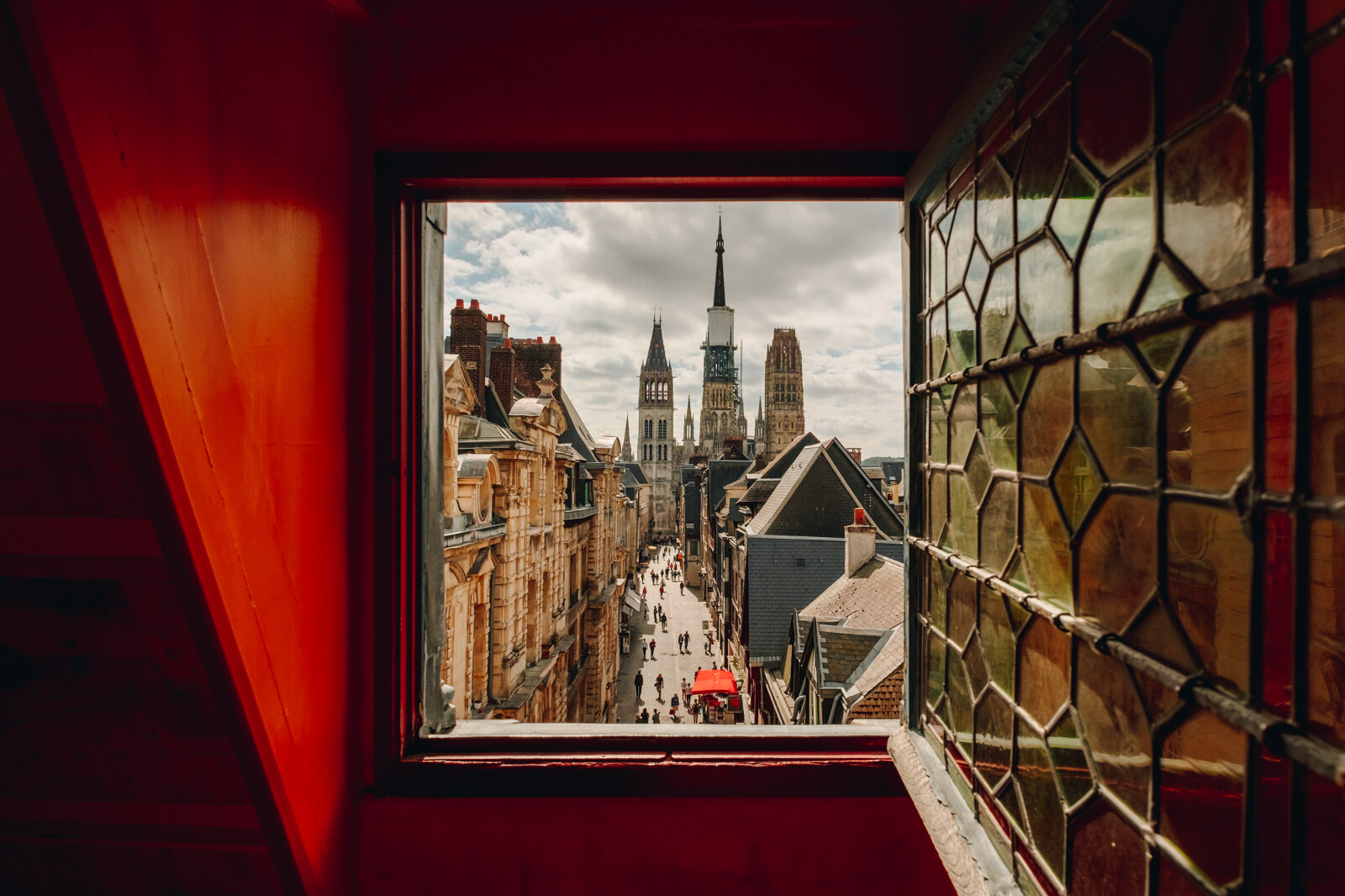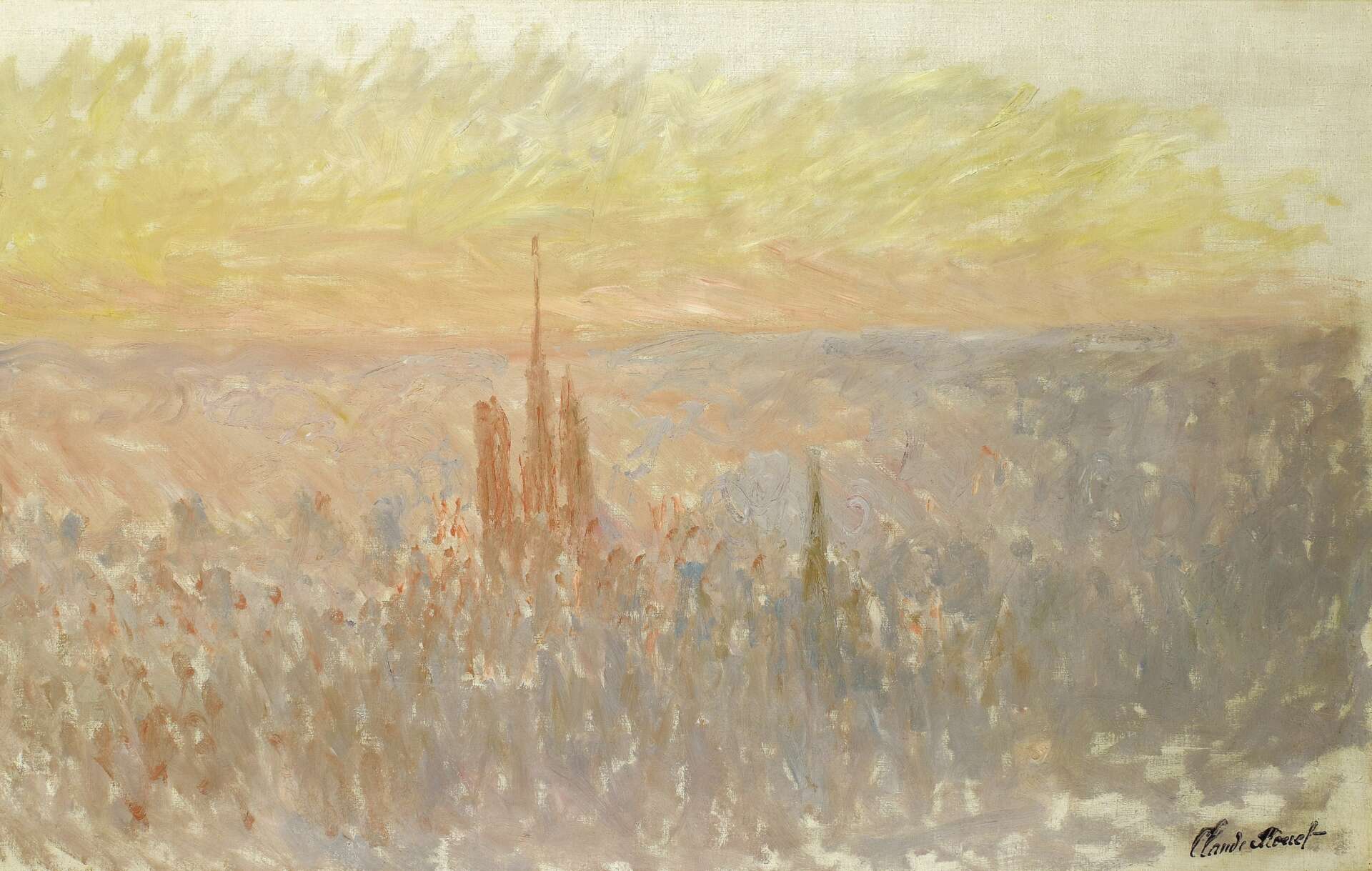 In the historic heart of Rouen, just beyond the eastern end of the main street, Rue du Gros-Horloge, rises the city's majestic Gothic cathedral, dedicated to Our Lady and completed in 1506. Listed as an historic monument in 1862, it houses the tombs of the Dukes of Normandy. A fascinating building, it notably inspired Claude Monet to paint a string of virtuoso canvases. Between 1892 and 1893, the leading light of the young Impressionist movement worked tirelessly on his famed series of Rouen Cathedral.
Depicting it from different angles and at different times of the day, using the same methods he had already employed for his series of Meules (Haystacks) and would later use for his series of Nymphéas (Water lilies), the great painter produced no fewer than 28 canvases taking the cathedral as his theme. The first few were painted in the open air, including Le Portail vu de face, harmonie brune, exhibited in the Musée d'Orsay, and Cathédrale de Rouen, effet de soleil fin de journée, on show in the Musée Marmottan Monet.
Subsequently, Monet worked in a number of studios, refining his successive views of the cathedral's western façade and its portals at various times of day. The whole ensemble was executed between 1892 and 1893, during two separate campaigns, but post-dated to 1894. The completed works include La Cathédrale de Rouen. Le portail et la tour d'Albane. Temps gris, kept at the Musée des Beaux-Arts de Rouen. The artist, at certain periods, would work on up to 14 versions at a time, switching from one canvas to another, depending on the play of light and time of day.
In the end, 20 of these canvases were displayed in 1895 at art dealer Paul Durand-Ruel's gallery, where they elicited the admiration of famous painters such as Edgar Degas, Paul Cézanne, Camille Pissarro and Auguste Renoir. Claude Monet and his series based on Rouen Cathedral went on to play a major part in the development and promotion of Impressionism in France and across the world.
Echoing the great artist's original process, the Rouen Normandy Tourism & Congress Office now proposes a unique experience for viewers from around the globe, transmitting via its website the changing light and colours on the façade of Rouen's Cathédrale Notre-Dame at all times of day or night, offering a feeling of what it's like actually standing in front of this fascinating monument so packed with history and stories.