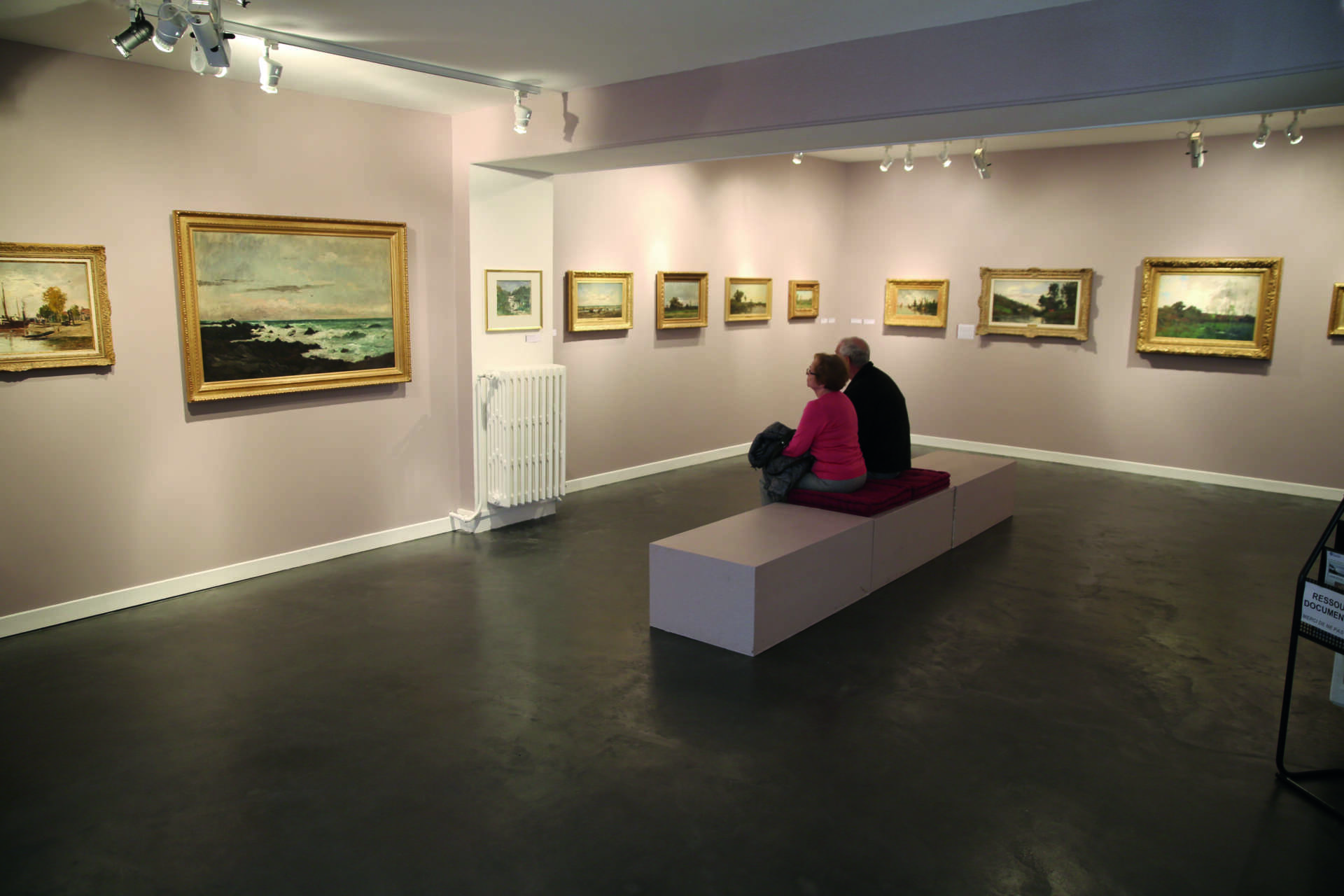 Located in the Manoir des Colombières, the Musée Daubigny pays homage to the works of Charles-François Daubigny, a major pre-Impressionist landscape artist. The Manor, set in the heart of historic Auvers-sur-Oise, stands opposite the Auberge Ravoux, the inn where Vincent van Gogh spent his last days in 1890. So, simply by visiting the houses on either side of the road, you can follow the artistic revolution that occurred through the second half of the 19th century, going from pre-Impressionism to post-Impressionism.
Daubigny, the first landscape artist to settle in the village of Auvers-sur-Oise in the 1860s, was, at first, influenced by School of Barbizon painters. Then, encountering further artists, he adopted increasingly modern techniques and sensibilities to depict nature, making him a precursor of Impressionism. Keen on painting en plein air, or outdoors, he revolutionised this practice by setting up his easel in the middle of the Oise River itself, on his bateau-atelier, or floating studio-boat, Le Botin. He used it to navigate along the Seine as far as the sea, sometimes accompanied by his son Karl, or his friend, the great artist Corot, or by others besides. As to this museum, it allows visitors to follow Daubigny's riverine journeys along its walls, via canvases such as Île de Vaux, petit bras de l'Oise to Remorqueur près du Havre, the latter a watercolour he painted in the Seine Estuary!
The avuncular Daubigny attracted many friends, among them Honoré Daumier, Jules Dupré and Jean-François Millet. And Auvers acquired its reputation as an artists' village, welcoming, a little later on, such painters as Emilio Boggio, Maximilien Luce and, of course, Vincent van Gogh.
The Musée Daubigny, establishing itself as the definitive museum dedicated to pre-Impressionism in the département (or French county) of the Oise, exhibits its permanent collections on the ground floor while temporary exhibitions are displayed on the first floor.
In addition to the museum, do visit the Maison-atelier Daubigny. A veritable memorial site, it constitutes an indispensable stop at which to discover how the Impressionist movement developed in Auvers-sur-Oise, notably via the original wall paintings with which its rooms were decorated, by Daubigny and his son, as well as by Corot, Daumier and Oudinot.
Practical informations
Musée Daubigny
Manoir des Colombières
Rue de la Sansonne95430 Auvers-sur-Oise
Tel. : +33 (0)1 30 36 80 20
museedaubigny.com
Practical informations
Musée Daubigny
Manoir des Colombières
Rue de la Sansonne95430 Auvers-sur-Oise
Tel. : +33 (0)1 30 36 80 20
museedaubigny.com