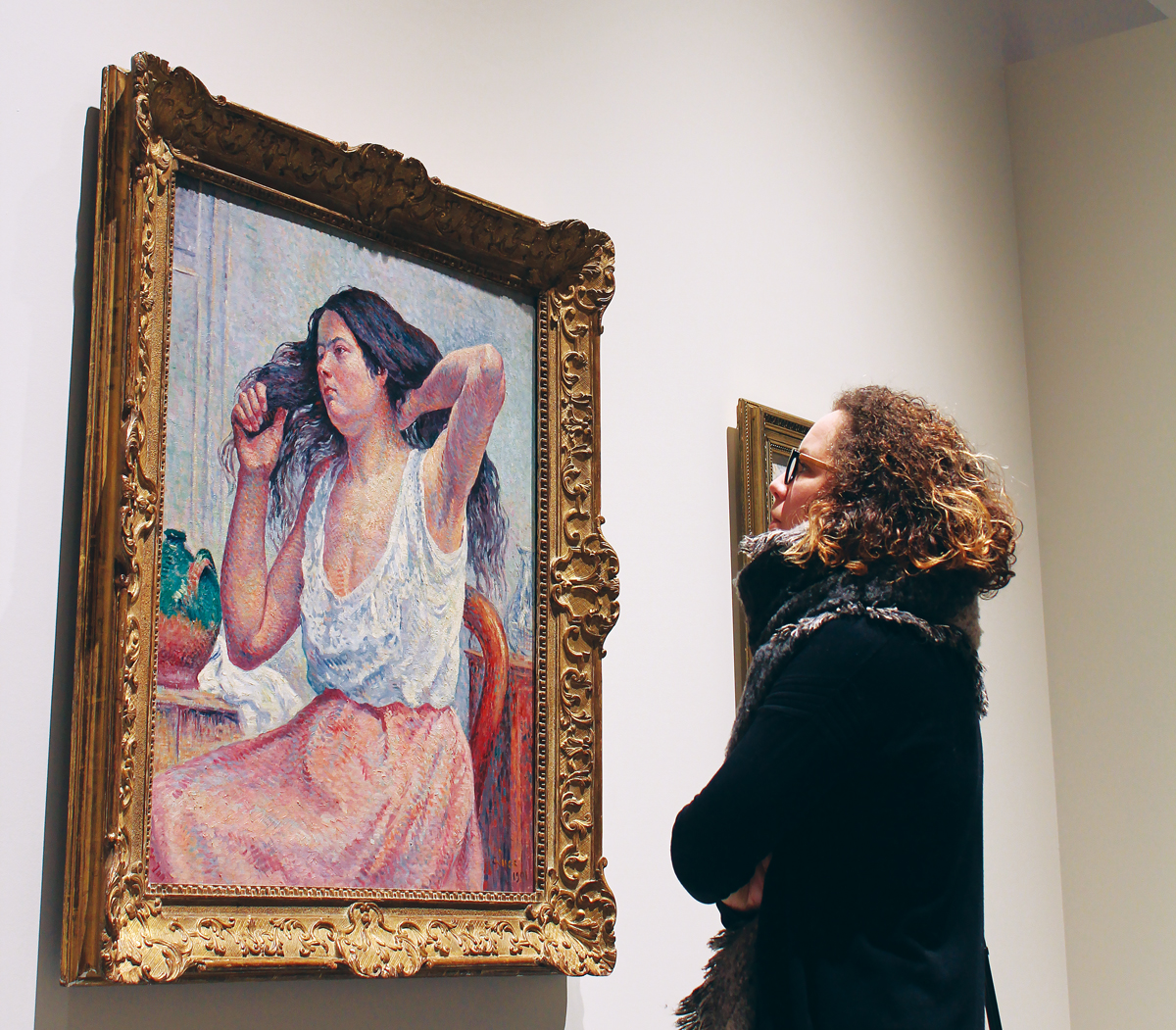 The Musée de l'Hôtel-Dieu, located close to the banks of the Seine, is the fine arts museum that boasts the largest collection of works by Maximilien Luce in France. Standing next to the extremely imposing Notre-Dame collegiate church that fascinated many artists, from Turner to Corot, it stands in the very heart of the town of Mantes-la-Jolie, in a listed former chapel.
Entirely renovated in 2018, inside, a complete floor is now dedicated to the Neo-Impressionist engraver, painter and illustrator Maximilien Luce. An anarchist at heart, he was born in Paris in 1858. At Rolleboise, a little village set beside a branch of the Seine close to Mantes-la-Jolie, he found a tranquil, restful little corner of his own. Dividing his time between Paris and his new country retreat from 1917 on, he painted such works as Rolleboise, la baignade dans le petit bras here.
The trail through the permanent exhibition retraces the artist's life and the key developments in his career, going from his Neo-Impressionist canvases to pieces illustrating World War I or even the anarchist cause. Madame Bouin à sa toilette or La Femme se peignant is one of the most famous pieces from his Divisionist period, the technique adopted in the wake of Georges Seurat. Applying little touches of pure colour side by side, this new way of painting followed the scientific theory on the diffraction of light. Viewers observing such works, described as "pointillist" by art critics of the period, are made to employ eyes and brain to combine the colours optically, the subject represented thus revealed in its pure state.
In parallel, the Musée de l'Hôtel-Dieu puts on temporary exhibitions across the year relating to Maximilien Luce, plus an interesting cultural programme, including guided tours the first Sunday in the month, lectures and sculpture workshops for young and old alike, certain activities even suitable for those as youthful as 18 months of age!
Practical informations
Musée de l'Hôtel-Dieu
1 rue Thiers78200 Mantes-la-Jolie
Tel. : +33 (0)1 34 78 86 60
manteslajolie.fr
Practical informations
Musée de l'Hôtel-Dieu
1 rue Thiers78200 Mantes-la-Jolie
Tel. : +33 (0)1 34 78 86 60
manteslajolie.fr