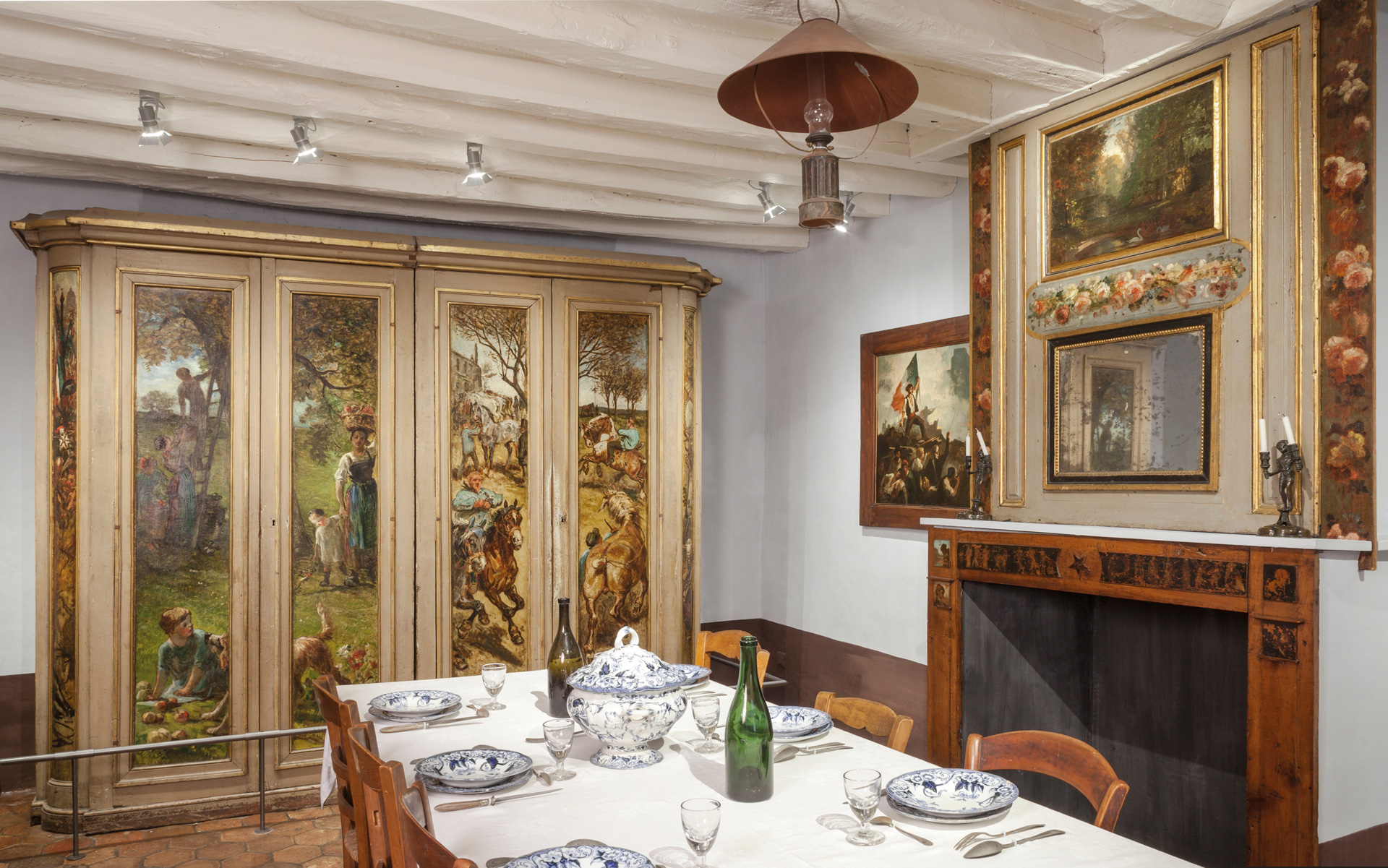 The Musée départemental des peintres de Barbizon is spread across two historic properties closely linked to the école de Barbizon, or Barbizon school of artists: the Auberge Ganne; and the maison-atelier, or house-cum-studio, where Théodore Rousseau lived. The renowned inn welcomed many painters in the heart of the village beside Barbizon Forest, while the house-cum-studio was lived in by an artist who, from 1847 to 1867, played a central role in the village's artistic life and development.
Today, the Auberge Ganne presents the museum's permanent collections, consisting of some 100 works that bring to life the Barbizon school artists' colony. Canvases by Camille Corot and Jean-François Millet stand alongside ones by Théodore Rousseau and Narcisse Diaz de la Peña. One point these artists had in common was that they painted outdoors and directly from nature, "en plein air" and "sur le motif", a way of painting that they introduced to French art in the 19th century.
On the ground floor, the dining rooms and grocery store help reproduce the inn's atmosphere at the time when the "Peint'à Ganne" – as the locals commonly referred to these artistic incomers – frequented the place. On the first floor, the works of art come to life, displayed on historic walls that still feature drawings, paintings and graffiti, often in comic style, that certain artists daubed on the walls of the bedrooms where they stayed.
The Maison-atelier de Théodore Rousseau, by contrast, presents temporary exhibitions that alternate with displays linked to the life and work of the artist himself. The temporary exhibitions dedicated to 19th -century artists who specialised in landscape painting or farming and rural scenes often focus on a single painter. Some of the most remarkable have been devoted to Ferdinand Chaigneau, Rosa Bonheur, Nicolae Grigorescu, Emmanuel Lansyer, François-Auguste Ortmans and that earlier, 18th-century landscape painting legend, Simon-Mathurin Lantara, often considered a precursor of the Barbizon school of artists.
Across the year, the Musée des peintres de Barbizon also puts on many cultural activities, such as conferences, literary and art walks, drawing workshops out of doors or engraving workshops. Also discover the circuit des peintres de Barbizon.