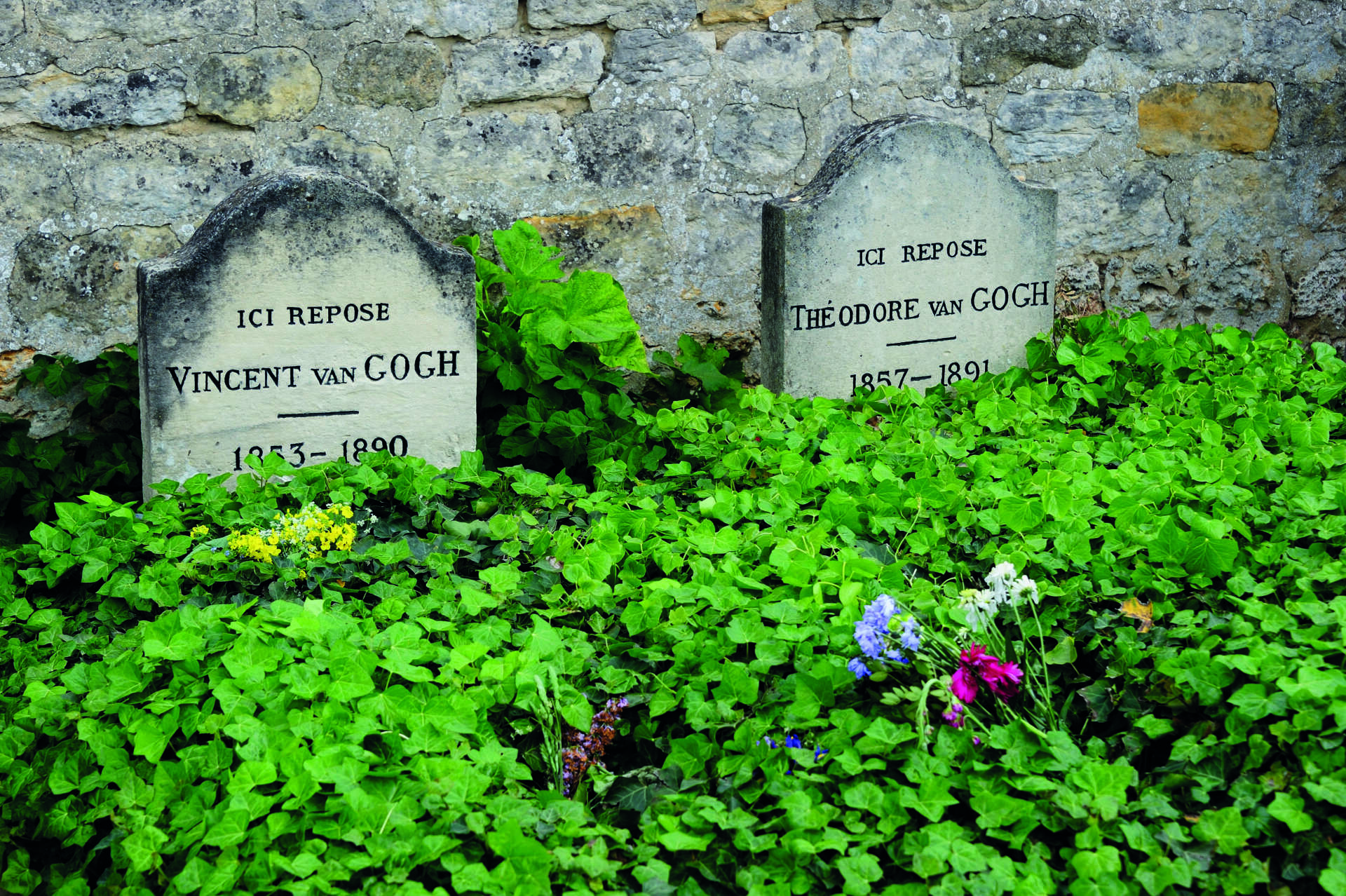 Vincent van Gogh died on 29 July 1890 in Auvers-sur-Oise, at the Auberge Ravoux to be precise, 70 days after he had taken up lodgings at that inn. His grave lies in the municipal cemetery on the way out of the village. So, the famed Dutch painter is buried on the edge of the plateau here, overlooking the Oise Valley, in the midst of landscapes he painted, including in his renowned Champ de blé aux corbeaux.
Just six months later, Vincent's brother Theo passed away, his death said to have been precipitated by the grief of losing his sibling. Theo's widow had his mortal remains transferred from Holland so that the two brothers could lie together for eternity. Small twin gravestones against one of the cemetery walls mark their resting spot. The ivy growing across both brothers' graves was taken from Dr Gachet's garden, a symbol of the friendship between the Gachet and Van Gogh families.
Vincent van Gogh came to the little village of Auvers-sur-Oise, some 30km northwest of Paris, following in the footsteps of Charles-François Daubigny, Paul Cézanne and Camille Pissarro. He was immediately taken with its picturesque, rustic aspects. During his short stay here, he managed to paint around 80 canvases, some of which count among his most famous, such as his Portrait du docteur Gachet and L'église d'Auvers-sur-Oise.
Continue looking around the cemetery and you'll come across the graves of further figures closely linked with the Impressionist movement, including that of Charles-François Daubigny's close friend, Léonide Bourges, a painter and draughtswoman, and Emile (or Emilio) Boggio, another artist who lived in Auvers-sur-Oise and died here – maison-atelier (house-cum-studio) in the village is also open to the public.
A place of pilgrimage for art enthusiasts, especially admirers of Vincent van Gogh, who come to pay their respects here and reflect on the great artist's life, the two graves are invariably covered with flowers left by visitors from across the globe. Guided tours are put on for those who which to explore the little village of Auvers-sur-Oise in the footsteps of Van Gogh and the Impressionists.