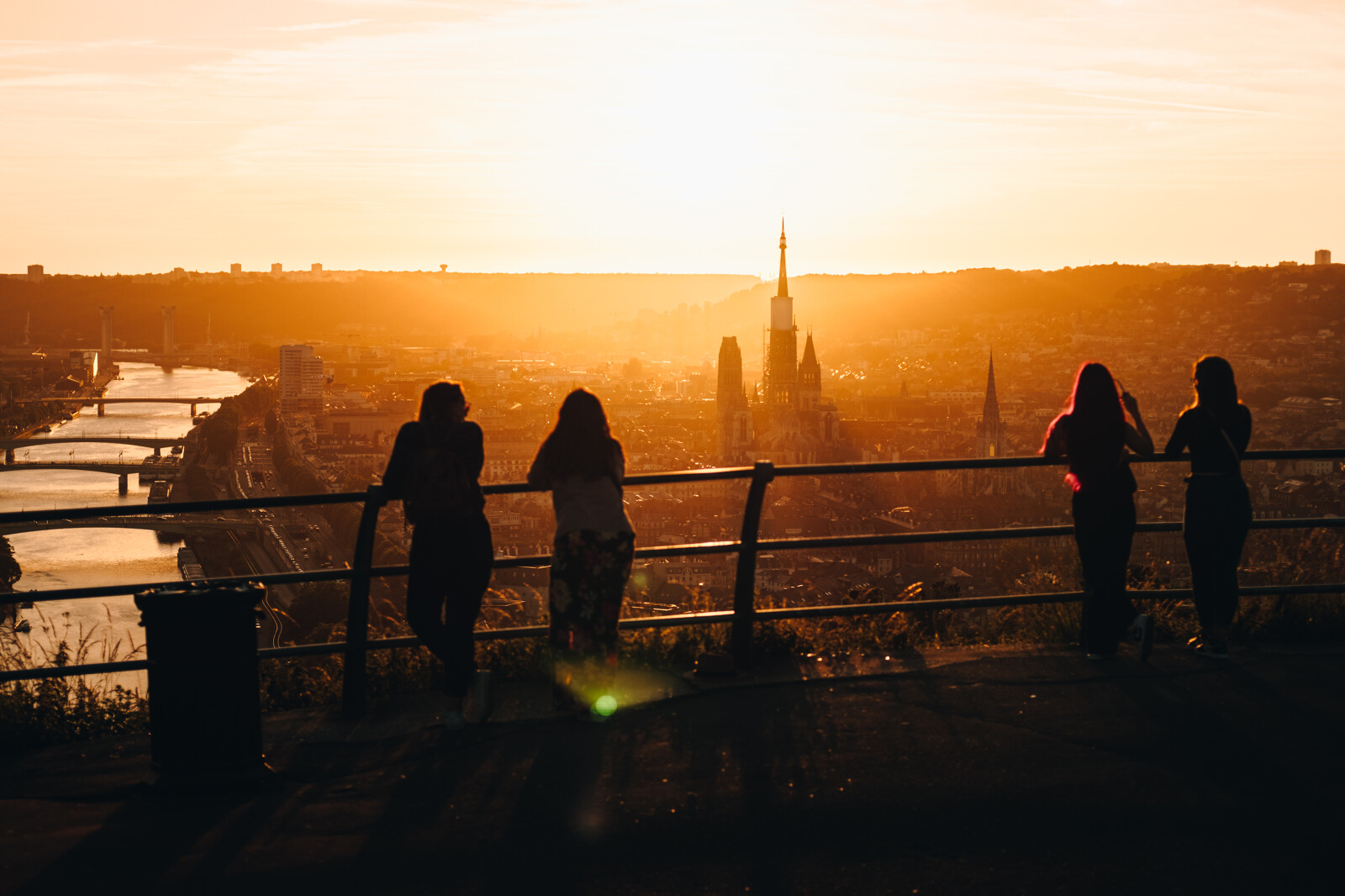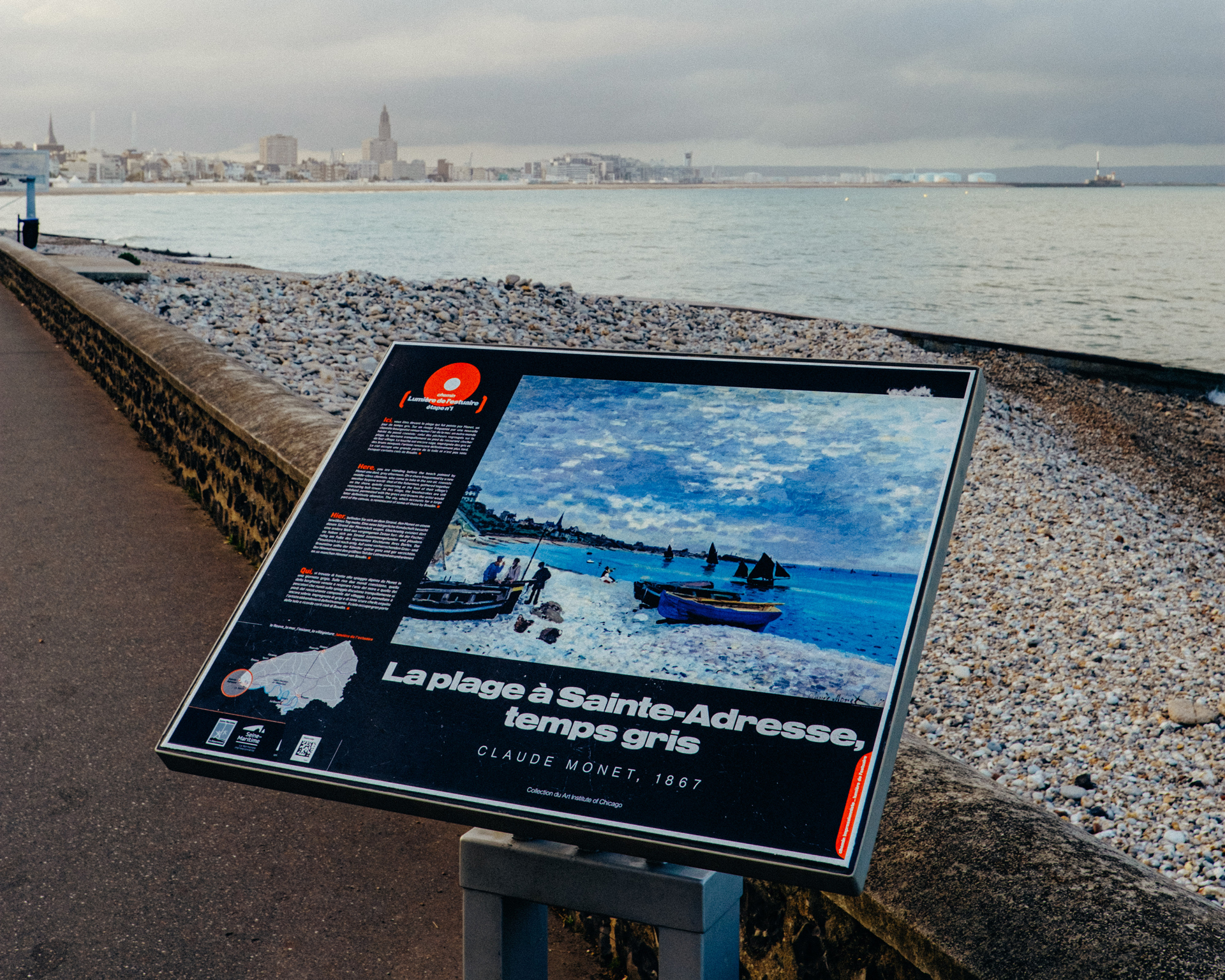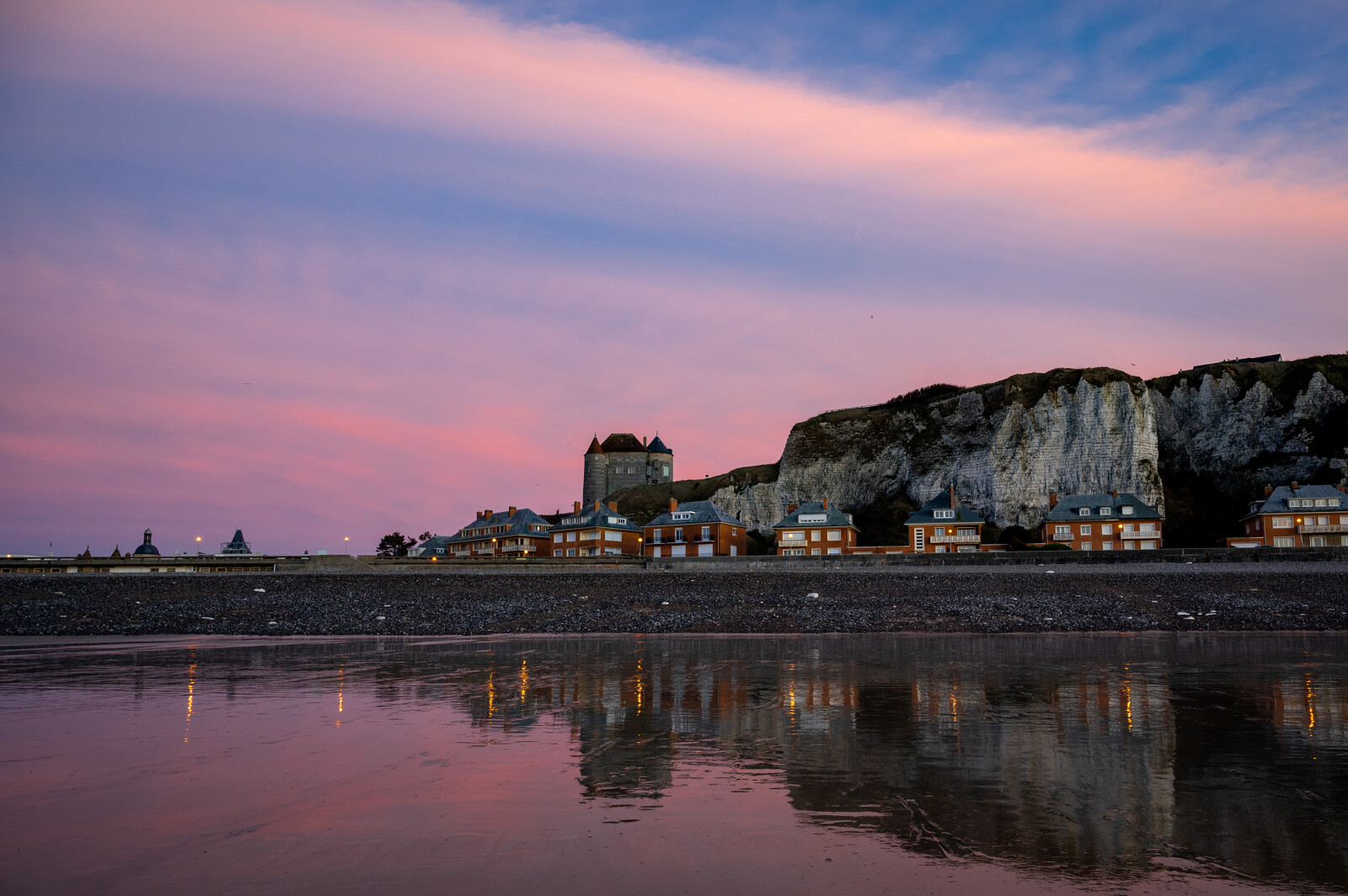 Along the Seine's meanders and around the Seine Estuary, as well as down the Côte d'Albâtre, several Impressionist trails link iconic places where the movement's painters set up their easels in Normandy. Around Rouen, La Bouille, Le Havre, Étretat, Fécamp and Dieppe, these trails, dotted with information panels, enable visitors to discover reproductions of Impressionist works in situ, accompanied by explanatory texts. A QR code is available for those wishing to look up more about a specific artist or work.
In Rouen: "L'instant impressionniste"
This walk across the city of Rouen takes you via the square in front of the cathedral that inspired Monet to paint his famed series of 28 canvases focusing on it in varied weather and at different times of day. The way then leads you through the streets of the medieval centre, including Rue de l'Épicerie, on to Rouen's port, very different in looks today than when it was portrayed in Port industriel, Saint Sever, two works by the Impressionist Camille Pissarro.
Starting out from Rouen, you can also follow the walking trail "Le fleuve impressionniste", which takes you via La Bouille, already appreciated in the 19th century by inhabitants of Rouen for outings, along the Seine's meanders up to Villequier, a town depicted by Turner.
In Le Havre: "La lumière de l'estuaire"
Going from Le Havre's seafront to its central docks, this walk takes you beside the sea from Sainte-Adresse Beach and on via MuMA, an art museum bathed in light, perfect for admiring its rich collection of Impressionist works.
From Le Havre, the walking trail "La mer impressionniste" invites walkers to embark on an adventure linking places with exceptional views of the Côte d'Albâtre and its great cliffs that so impressed Monet. In Étretat, do make sure you visit the Jardins d'Étretat; in Fécamp, the Musée des Pêcheries enables you to discover works painted by a good number of Impressionism's precursors while making the most of the fine views down over the port.
In Dieppe: "La villégiature impressionniste"
A third walking trail has been set up in the seaside resort of Dieppe, overseen by its imposing 15th century château-museum containing a lovely selection of Impressionist works.
From Dieppe, you can continue to explore the Impressionist Côte d'Albâtre by heading on to the Musée Jacques-Émile Blanche in Offranville, the village where this artist spent the last period of his life.