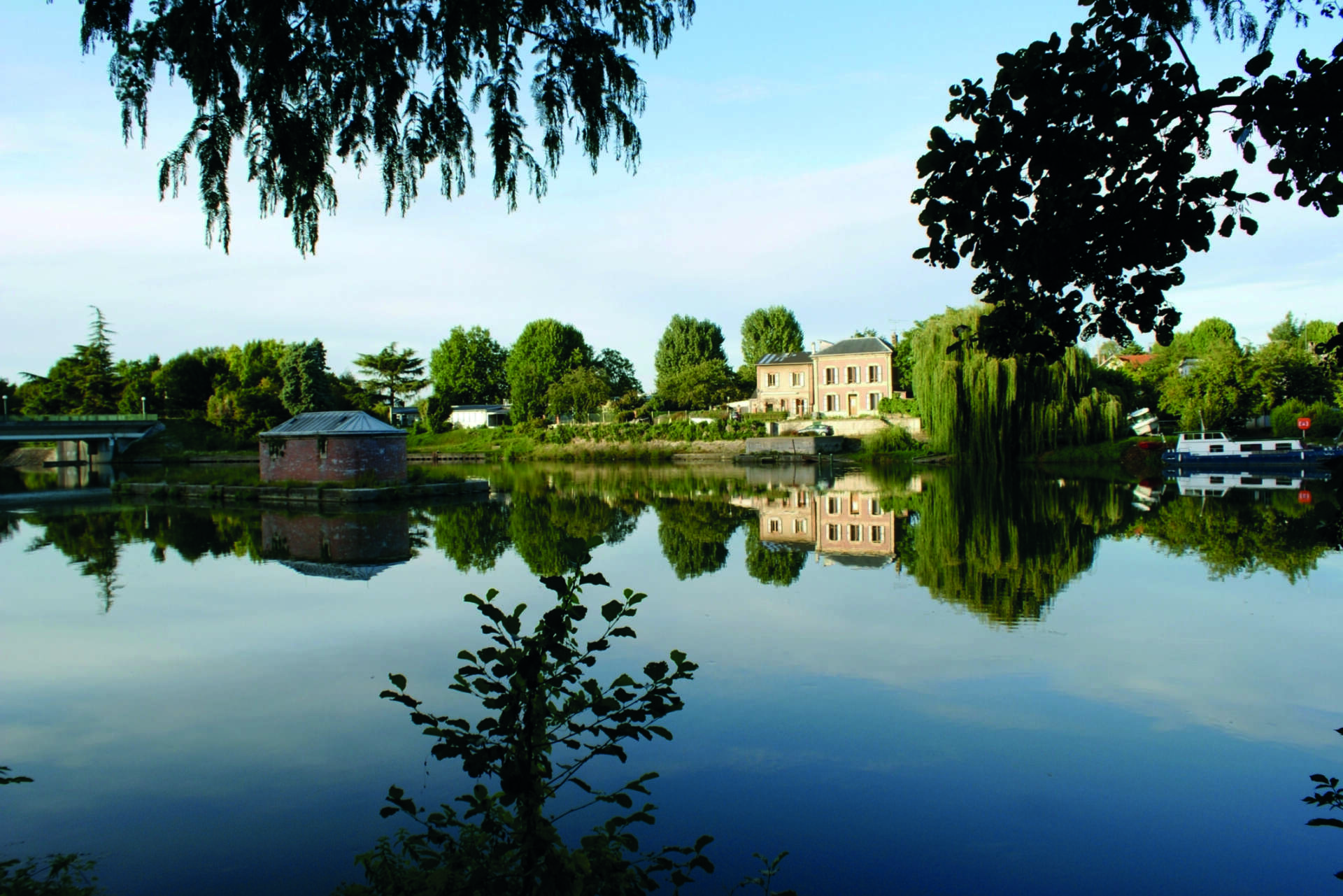 In addition to the Chemin des Impressionnistes along the banks of the Seine, this Impressionist trail around Bougival takes visitors to stretches of riverbank and islands that inspired Alfred Sisley, Berthe Morisot, Claude Monet, Auguste Renoir and Camille Pissarro in particular. The landscapes around this charming little cultural town now styled a ville des arts have remained unspoilt and can be experienced to this day as those artists knew and loved them. Boating, barges moored at the river port, walks, festivities in the open-air theatre and dances on the waterside… so many activities still bring life to the river here, as they did in Belle Époque times.
This 2km-long walking trail beside the Seine is dotted with enamel plaques reproducing canvases executed by landscape artists and Impressionists on the very spots where they were painted. Crossing the Île de la Chaussée, this walk therefore preserves the memory of these artists and their works, including, among others, Le Quai à Bougival by Berthe Morisot and Le Pont de Bougival by Claude Monet.
Along with the landscapes, all the activity on the river fascinated the Impressionists. Pissarro, later dubbed "the painter of modernity", was the first to "show" barges heading upriver or stopping at locks. Fascinated by all this new bustling life on the Seine, he set up his easel on the riverbank to paint directly on the spot, or "sur le vif", as was the case for his Péniches sur la Seine à Bougival. A little later, Alfred Sisley took on the same subject in his Bateau à l'écluse de Bougival. He captured in paint the teeming life and modernity of the period, playing with the lively, colourful reflections in the water and the smoke coming from a tugboat at the tip of the Île Gautier.
Finally, the walk takes visitors to those iconic spots where people came to unwind and be entertained in the late 19th century. Along with La Grenouillère and the Bal des Canotiers, there was nature's peace to be enjoyed, as shown in Albert Lebourg's Bougival en été or, in more typical festive spirit, a waltz to relish with Suzanne Valadon in Auguste Renoir's La Danse à Bougival.
Practical informations
Office de Tourisme de Bougival
1 rue du Général Leclerc (entrée quai Clémenceau), bâtiment A78380 Bougival
Tel. :+33 (0)1 39 69 21 23
tourisme-bougival.com
Practical informations
Office de Tourisme de Bougival
1 rue du Général Leclerc (entrée quai Clémenceau), bâtiment A78380 Bougival
Tel. :+33 (0)1 39 69 21 23
tourisme-bougival.com