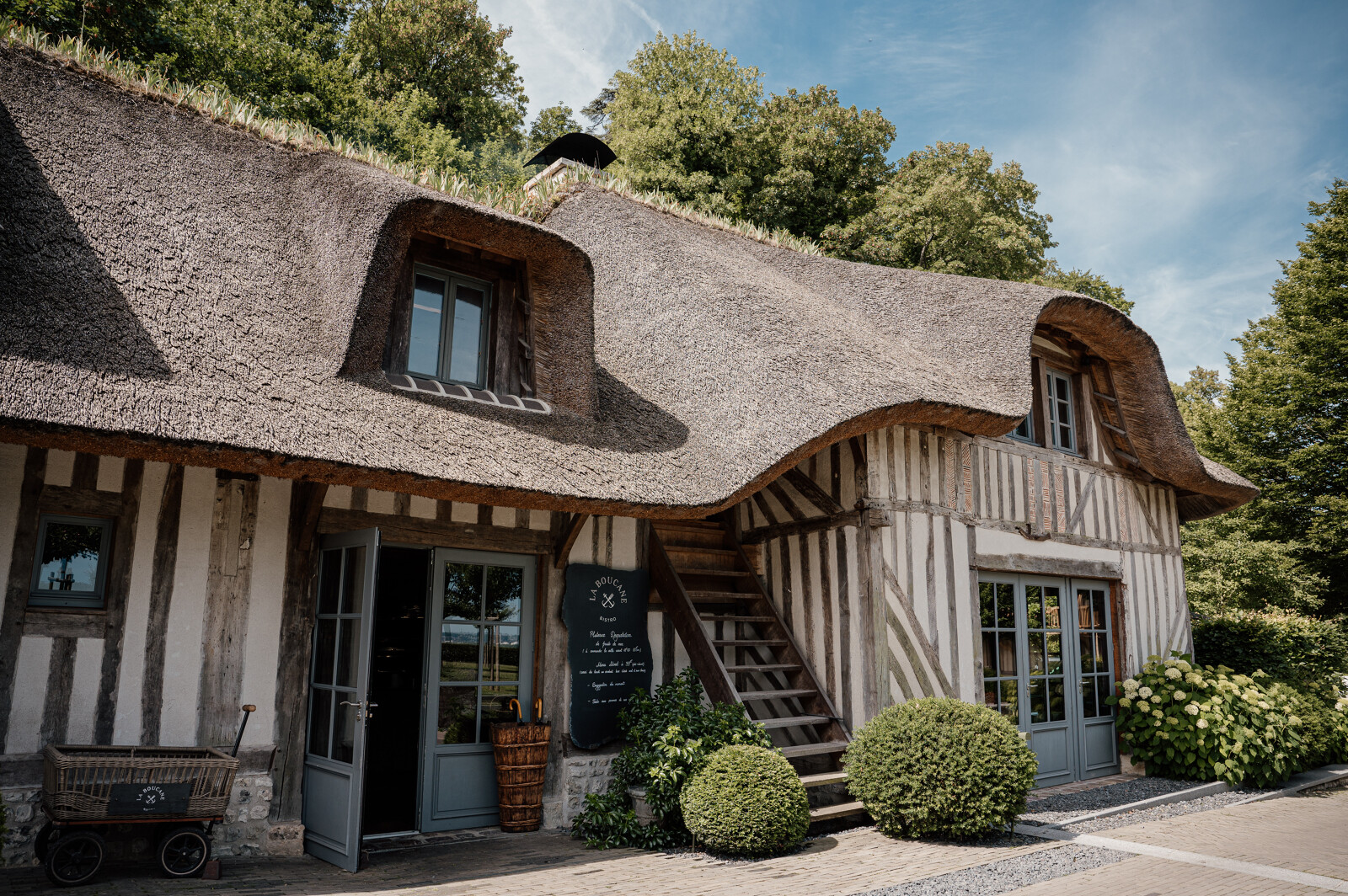 Fascinated by the light of the Seine Estuary, Eugène Boudin, Gustave Courbet, Claude Monet, Charles-François Daubigny and many others who followed in their wake took board and lodgings at the Ferme-auberge Saint Siméon, long run by a woman known as la Mère Toutain. Already at the end of the 1850s, not just talented artists but also musicians and poets, including the great Charles Baudelaire, met here in the so-called rencontres de Saint Siméon. The place became iconic.
Located on the heights above Honfleur, set amidst apple trees, this farm built in traditional Normandy style provided a haven of peace that was depicted, among others, by Louis-Alexandre Dubourg in hisFemmes dans un verger à Saint Siméon. It also appears in Claude Monet's famous canvas, La Charrette. Route sous la neige à Honfleur, in the collections of the Musée d'Orsay in Paris.
In the early days when the Ferme Saint Siméon attracted artists, it was a picturesque, friendly place for artists to meet, notably those coming from Paris in search of peace, as well as to get close to nature and meet locals. It then developed into something of an artistic laboratory reflecting the creative effervescence of the second half of the 19th century. Artists of all kinds, painters leading the charge, sought to liberate themselves from the yoke of academic, or Salon, rules that imposed classical traditions. The painters here practised a new way of working directly from life and in the open air, or "sur le vif", creating Impressionism.
Today, this illustrious establishment had been transformed into a top-flight hotel-restaurant offering a unique setting in which to stay, perhaps in Claude Monet's favourite room, or in the space Camille Corot used as his studio, now turned into a bedroom.
Honfleur town centre lying just 10 minutes away by foot, a visit to the Musée Eugène Boudin is a must before following in the footsteps of Honfleur and its artists on a walking trail taking you from the highly picturesque little harbour and on through the town's medieval streets.
Practical informations
Ferme Saint Siméon Hôtel-Restaurant-Spa
20 Rue Adolphe Marais14600 Honfleur
Tel. :+33 (0)2 31 81 78 00
fermesaintsimeon.fr
Practical informations
Ferme Saint Siméon Hôtel-Restaurant-Spa
20 Rue Adolphe Marais14600 Honfleur
Tel. :+33 (0)2 31 81 78 00
fermesaintsimeon.fr