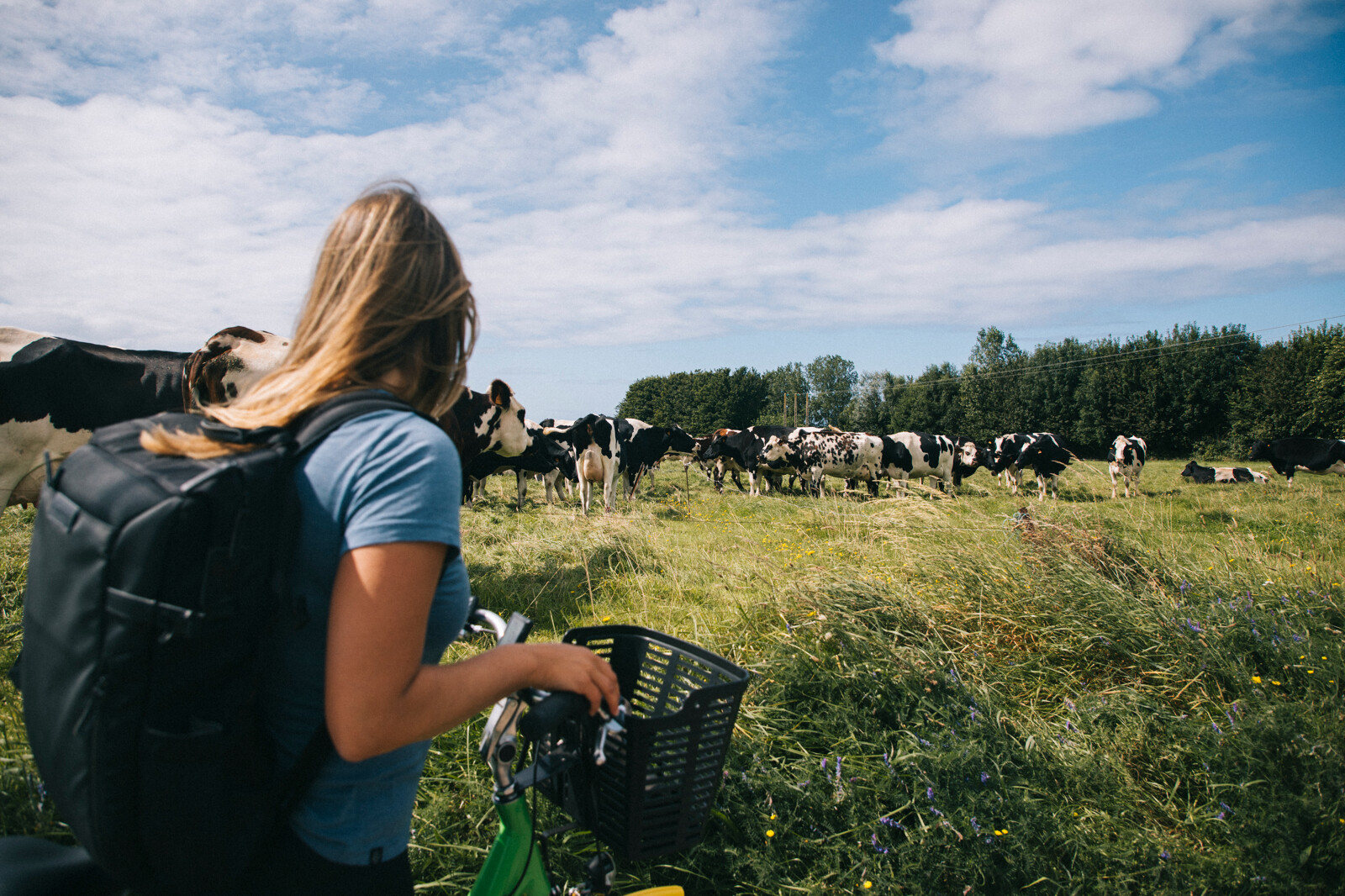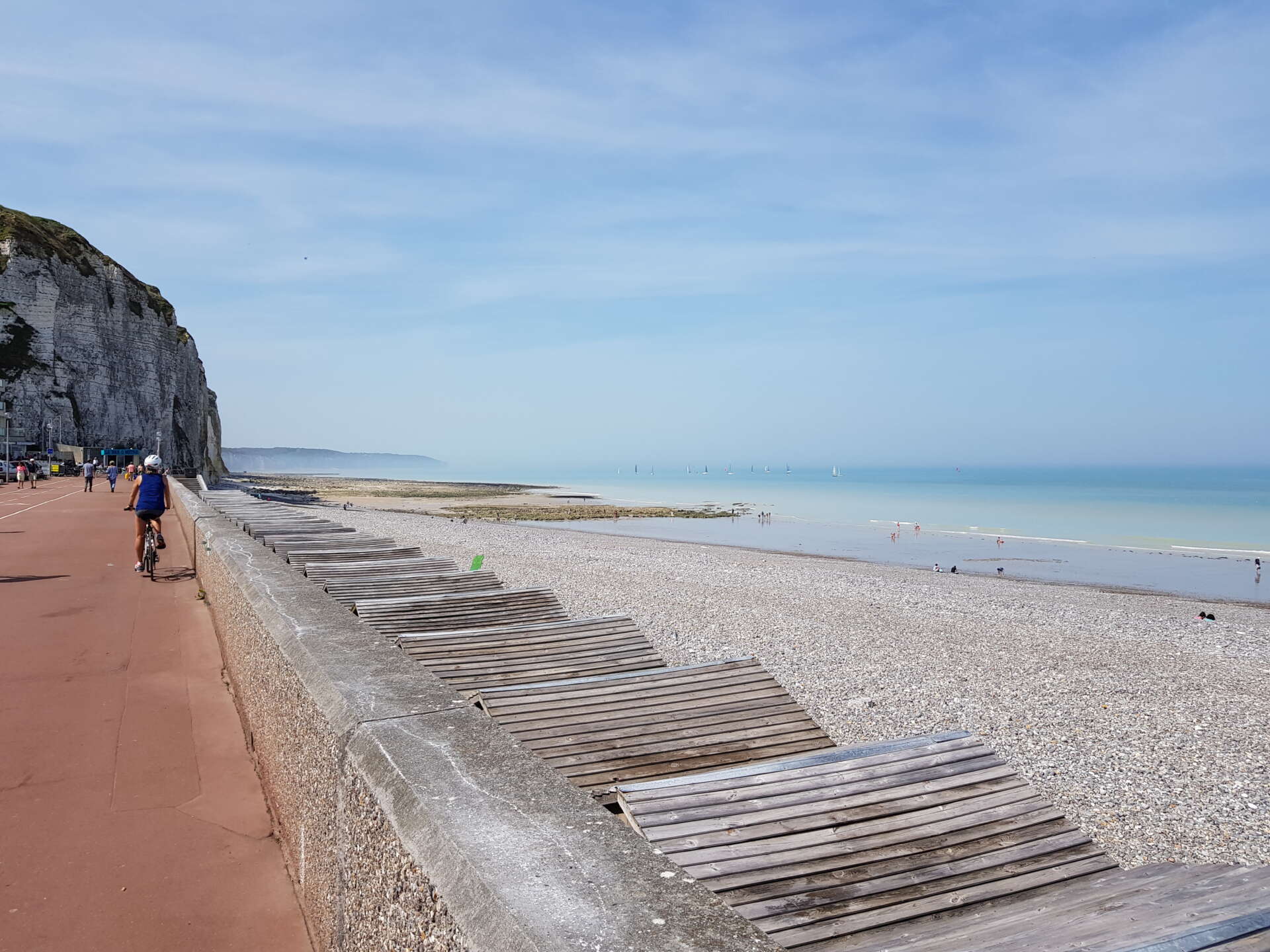 All along the Côte d'Albâtre, the Vélomaritime® cycle route offers riders a way that may be quite testing but that leads them to many exceptional viewing points immortalised by many painters. Enabling cyclists to appreciate both seascapes and countryside, there are 180km of signposted route in all here, sticking to the coast with its resorts so dear to many Impressionists.
Please note, along these stretches of cycle route, you won't ride on cycle paths, but on a variety of roads, a few stretches of which can be busy, plus there are many hills to tackle – unavoidable but not insurmountable!
From Le Havre to Étretat
Le Havre is the port that inspired the founding canvas of the Impressionist movement, Claude Monet's Impression, soleil levant (Impression, Sunrise), but you need to leave it behind you, cycling up to the Côte d'Albâtre's western cliffs. Having crossed verdant countryside, you suddenly get sensational views down on the port of Étretat. It looks like a filmset. A beach walk is a must to take in its famed limestone stack, the Aiguille Creuse. Before it inspired author Maurice Leblanc to set his tales of gentleman burglar Arsène Lupin here, it was a favourite theme for Claude Monet, Impressionism's leading light. One further stop you should make before getting back on the cycle route is to the Jardins d'Étretat, where nature and contemporary art come together.
Discover the cycle route from Le Havre to Étretat via La Vélomaritime's website
From Étretat to Fécamp
Starting out from Étretat, this stretch of La Vélomaritime® cycle route takes you away for a time from the Côte d'Albâtre coast, leading you through countryside to Fécamp and its port overseen by the perched Musée des Pêcheries. This museum boasts a fine series of canvases by certain painters who practised their art at the same time as the Impressionists, as well as some works by their precursors. These artists painted out of doors, or en plein air, drawn by Normandy's characteristic light, magnificently rendering, from life and on the spot, the picturesque seaside scenes to be admired around Fécamp.
Discover the cycle route from Étretat to Fécamp on La Vélomaritime's website
From Saint-Valery-en-Caux to Dieppe
Going from Saint-Valery-en-Caux, this third stretch of cycle route along the Côte d'Albâtre takes riders down to Veules-les-Roses, a member of the association Les Plus Beaux Villages de France, then on to the port of Dieppe, beside precipitous cliffs. Considered France's very first seaside resort, Dieppe also boasts a surprising château-museum looking down on the sea and now guarding a lovely selection of Impressionist paintings, including Plage de Dieppe vue depuis la falaise Ouest by Eva Gonzalès, a painter who was Édouard Manet's only pupil and who became a member of that exclusive circle of female Impressionists.
Discover the cycle route from Saint-Valery-en-Caux to Dieppe on La Vélomaritime's website