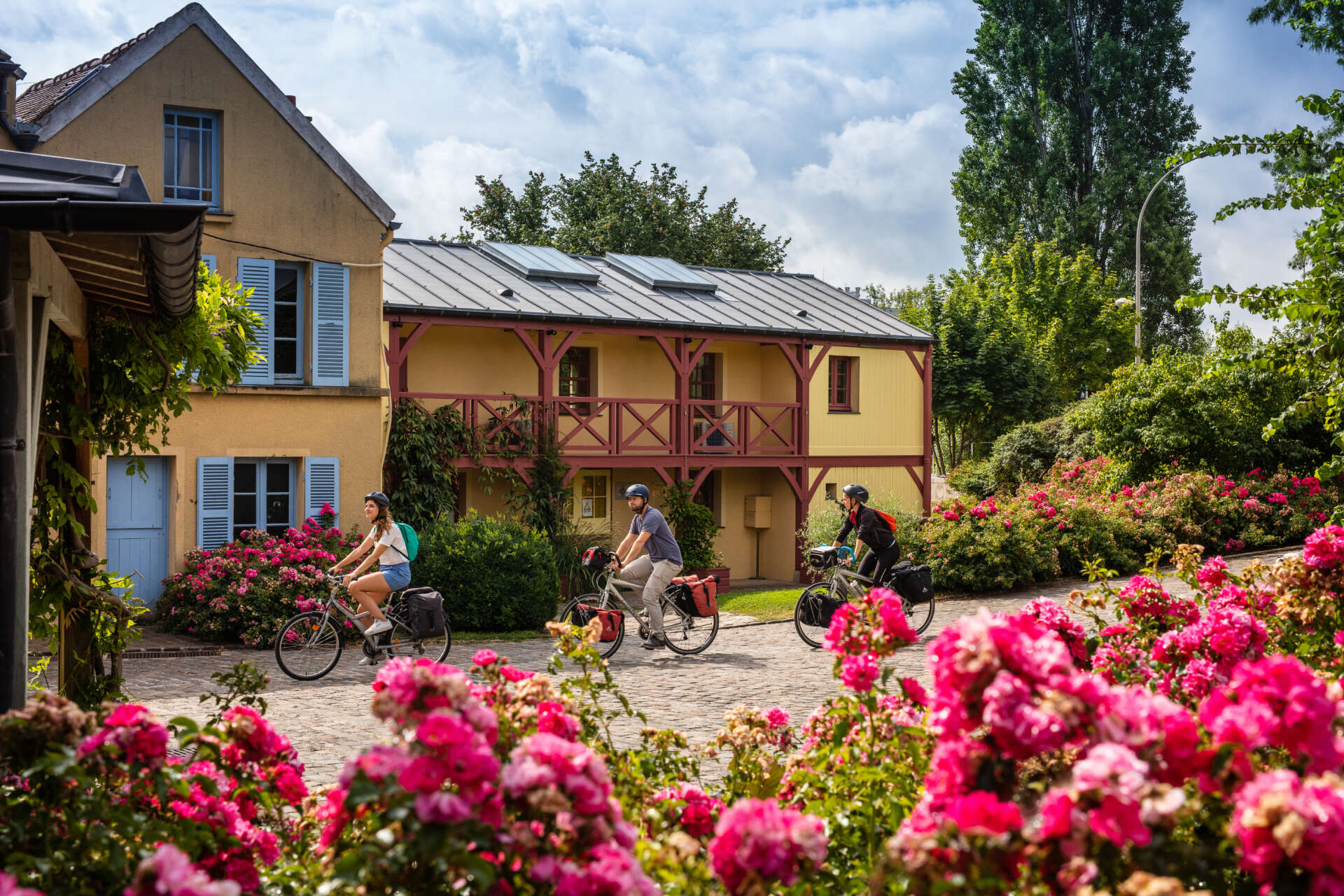 The Seine à Vélo proposes two stretches of cycle route along the banks of the Seine heading north and west from central Paris. These are best suited to seasoned cyclists. The first goes from Paris to Chatou; the second guides riders further north along the great river, from Chatou to Conflans-Sainte-Honorine, continuing through landscapes that inspired many an Impressionist.
From Paris to Chatou
Leaving from central Paris, going via Saint-Denis, this stretch of the Seine à Vélo cycle route leads riders via the canals serving the French capital to join the great river itself along the Promenade Bleue, a Seine-side cycle path making use of former towpaths. You cross a mix of industrial and more countrified landscapes, both a great source of inspiration for artists in the late 19th century.
Arriving at Chatou, the Île des Impressionnistes and Hameau Fournaise provide a lovely halt where you can immerse yourself in the period feel of this place where Auguste Renoir painted his famous boating-party scene, Déjeuner des Canotiers. At the Musée Fournaise, delve further into the atmosphere of those outdoor riverside restaurants known as guinguettes in French, while the Restaurant Fournaise is a perfect place in which to round off a visit to the area, enjoying a traditional culinary treat.
Discover the stretch of cycle route from Paris to Chatou via the Seine à Vélo website
From Chatou to Conflans-Sainte-Honorine
After Chatou with its Île des Impressionnistes, the Seine à Vélo continues via the banks of the great river. Along this stretch, discover about the boatmen and sailors who plied the riverine route between the French capital and the sea, proving particularly active in the late 19th century.
At Bougival, a pedestrian trail leads walkers in the footsteps of the Impressionist painters and provides an enlightening cultural pause. The period's artists, including Camille Pissarro, were fascinated by the bustling activity along the Seine here and depicted it on many occasions. Reproductions of many of the canvases inspired by these scenes are dotted along this walk.
Having touched on the green lungs of these western outskirts of Paris, in the form of the state forests of Marly-le-Roi and Saint-Germain-en-Laye, the cycle route, before reaching Conflans-Sainte-Honorine, takes you via La Frette-sur-Seine. A further walking trail here focuses on the range of works painted in this little town at the end of the Oise Valley and nestling in a meander in the Seine. From Barbizon School painters, such as Charles-François Daubigny and Camille Corot, precursors of Impressionism, to Camille Pissarro, the panels put in place show the canvases such artists painted outdoors and on the spot along the quays here, backed by splendid Belle Époque villas.
Discover the stretch of cycle route from Chatou to Conflans-Sainte-Honorine via the Seine à Vélo website